Chalkidiki
---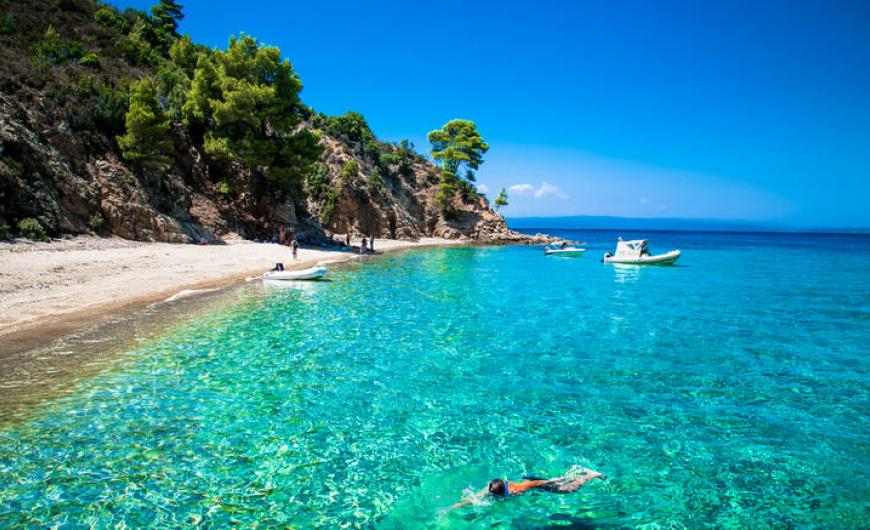 Halkidiki is a region of Macedonia and is geographically the end of Central Macedonia in the Aegean Sea, which penetrates deep into it, forming three elongated peninsulas, giving the area its characteristic shape ("Halkidiki's feet"). To the north-east there is the Marmari peninsula, between Akanthos and Strymonikos bay.
Halkidiki is a great peninsula, being surrounded by the Aegean Sea and only Northwest. is united with the trunk of Macedonia through the region of Thessaloniki. In the southern part of Halkidiki, three distinctive elongated peninsulas are formed from west to east: the peninsula of Kassandra, the Sithonia peninsula and the peninsula of Athos.
The capital of the prefecture of Chalkidiki is Polygyros with 6,121 inhabitants. The administrative center of Mount Athos is Karyes. The Halkidiki peninsula is administratively divided into the prefecture of Chalkidiki and the autonomous monastic state of Mount Athos. The northern part of the peninsula belongs to the prefecture of Thessaloniki.
Best time to visit
Summer
Weather
In Chalkidiki, climatic differences between mountain and coastal segments are presenting, thus creating many local microclimates that are related to both altitude and distance from the sea. Generally the winter is characterized by low temperatures, with a lot of rainfall or snowfall (mainly in the mountain range) from late November to April, while the summer is relatively warm with a few local rains.
Transportation
KTEL of Chalkidiki
Taxi
Know before visiting
One of the most developed tourist destinations for summer holidays and an area of particular natural beauty. Blue waters, countless coves and beaches, lush vegetation and picturesque villages make up an idyllic landscape.