Thessaloniki
---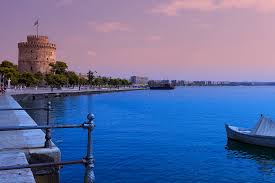 Thessaloniki is the second largest city in Greece. It is the headquarters of the municipality, the Regional Unity of Thessaloniki, the Region of Central Macedonia and the Decentralized Administration of Macedonia - Thrace.
Best time to visit
All seasons are just as beautiful as enjoying a stroll on the beach.
Weather
The climate of Thessaloniki is mediterranean but also contains continental features. More generally, Thessaloniki enjoys several sunny days during the year. Because of its location, Thessaloniki records only 426.3 millimeters of rain per year, as Pindos stops wet western winds from crossing to eastern Greece. The highest and lowest recorded temperatures are 44.0 ° C and -14.6 ° C.
Transportation
Thessaloniki has an extensive network of bus lines that serve the entire metropolitan area. They are managed by the Thessaloniki Urban Transport Organization. Thessaloniki Metro started to be built in 2006 and is expected to be completed in 2020. The first line will be the New Railway Station - New Switzerland, while extensions are planned to other areas. Thessaloniki is the most important railway hub of the country on the axis PATHEP (Patras-Athens-Thessaloniki-Edomeni / Promachonas) as it connects Greece with the rest of Europe and Turkey. The city is served outside the prefecture of Thessaloniki with the intercity buses the Macedonian Intercity Bus Station, located at the western main entrance of the city. Buses to Halkidiki depart from the bus station of the KTEL Halkidiki to the south of the city. Thessaloniki is connected by air to various domestic and European destinations. Thessaloniki International Airport Thessaloniki << Macedonia >> is located 15 km south of the city, in the area of ​​Mikra. The port of Thessaloniki approaches cruise ships mainly during the summer months while the coastal connections with the Aegean islands have been abolished.
Know before visiting
Thessaloniki enumerates monuments from the whole spectrum of historical time, with a multitude of Roman, Early Christian and Byzantine. A well-known monument and symbol of Thessaloniki is the White Tower. Other important monuments are the Roman Forum, the Arch of Galerius (Kamara) and its mausoleum (Rotunda-Agios Georgios), the church of Agios Dimitrios, its walls and numerous other Byzantine churches.