Samarina
---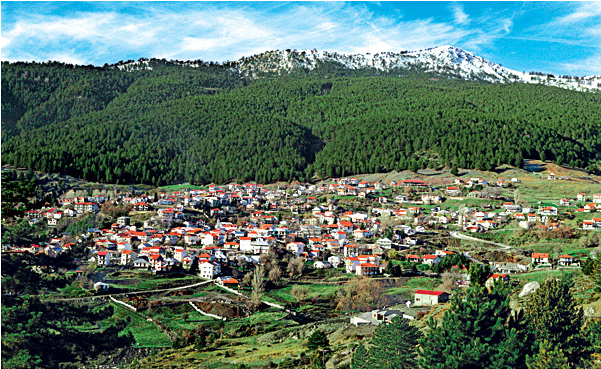 Samarina is a village in the Prefecture of Grevena, Macedonia and before joining the Municipality of Grevena with the Kallikratis program it was a homonymous community. It is located in northern Pindos on the eastern slopes of Smolikas at an altitude of 1,500 or 1,450 meters. It is considered to be one of the tallest villages in Greece and the Balkans.

Samarina is one of the most famous Vlach villages in the country and is located near the borders of Western Macedonia and Epirus, in the prefecture of Grevena. It is said to be the tallest village, not only of Greece but also of the Balkans. Unfortunately, I was unable to confirm it. The bibliography and the Internet write several. It is certain that it is built on the northeastern slopes of Mount Smolikas, whose highest peak is 2,637 m. The altitude of the village "plays" between 1,350 and 1,650. According to another undisclosed information, the tallest village in Greece is not Samarina, but Vigla Florina, at 1.550 m.Its permanent inhabitants, who in the winter lie down in lower parts of Thessaly and Macedonia, are in their largest part Vlachs or Koutsovlachs, as others want to call them. Their tongue is the Kubosblach dialect. The main occupation of its inhabitants is livestock farming and logging. Women weave thick woolen fabrics, blankets and carpets.
Southwest of Samarina is the valley of Kerna ("the stream of demons" in Vlachka). It flows from Smolikas and crosses the area about 6 km. Through a fairway, quite inaccessible (only 4x4), we can reach the point where the stream forms 2 - 3 beautiful waterfalls. Again in the southwest, at the foot of Smolikas, there are two lakes known as "Drakolimnes". Here there are alpine thirds, while the great waterfall of Smolikas, Apa Spindouriata (meaning "pendulum water"), which pours its waters into a sharp and densely gorged ravine, Skondina.
About 5 km south of the village you will find the monastery of Agia Paraskevi (1713) in the forest. It is of Byzantine style and its interior is painted with frescoes by local hagiographers. Founders of the monastery were the monks of Nikephoros and Dionysios and previously worked as a hagiography school. The monastery offered much to the nation during the Ottoman domination. It was the center of thieves and armatolos - from here began his revolutionary work by Samarin, the martyr Dimitrios, who martyred in 1808 - and still was the center of the rebels in the war in 1940.
For skiing in Vasilitsa: Vasilitsa ski resort is one of the largest in northern Greece with a winter season which usually starts from mid November and ends in May. The chalet and facilities are at a height of 1,750 m. The ski resort has 18 slopes (22 km), while the skiers have taken over 1 triple, 1 two-seater 4 slides and a baby lift. Tel. 24620-84100 www.vasilitsa.com
Best time to visit
In the winter it is more deserted but has more beautiful landscapes while in summer it laughs alive.
Weather
In winter very cold temperatures and in the summer quite cool.
Know before visiting
The most famous village of Pindos, Samarina, is built at a height of 1500 meters on the eastern slopes of Smolikas. In the summer, its population reaches 5000 inhabitants! But in the rest of the year the only traces of life leave the chimneys of the very few hostels that almost heroically dare to work, even in the "white ... exclusion" of gravity!