Pozar Springs
---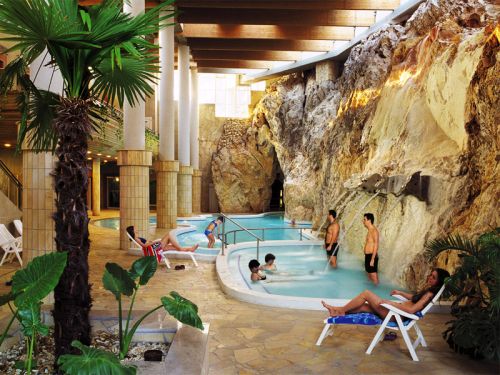 In the Loutraki prefecture of Pella, 13 km west of Aridaia, there are the mineral springs Loutra Loutraki or Loutra Pozar that spark at a temperature of 37 ° C, with a remarkable chemical composition. Hot water has a medicinal effect and is drinkable. Visitors use it for balneotherapy, quantity therapy, toning and relaxation.

The spa town is 3 km away from Loutraki and is located in the valley of the St Nicholas river. The oldest name of the tomb was "Toplitsa", which means in Slavic, in a free translation: "Thermopotamus". The valley follows the bends of the river, with many artificial waterfalls (part of the floodplains, elegantly set in the environment), lush vegetation and rocky, steep slopes on either side.

Bathtubs are of two types, smaller than 3-4 people, also called "bathtubs" and large of 20 people called "swimming pools". In several places hot water also spills free and poured into the stream (hence its name) [unclear]. The use of water as a drinking is free, from a fountain next to the restaurant of the Municipal Company of Baths. There is also a large 25-meter open swimming pool (1 to 2.80 meters deep), which is supplied with hot and cold water in the area.

A complex of about 15 caves has been discovered in the area, with abundant finds of prehistoric times, which are exhibited in the small museum of Loutra. The area has been declared as a cave-bearer (Sandpiper of Almopia) and is the first of its kind in Greece.

Bathrooms: 23840 91300
KTEL of Aridaia: 23840 21249
Taxi: 23840 21244
Best time to visit
The Pozar Baths of Kaimaktsalan and Agios Athanasios are magnets for visitors all year round.
Weather
The weather in winter is quite cold but it is ideal for bathing in the baths in the summer remains cool compared to the most flat areas.
Transportation
Taxi

KTEL of Aridaia
Know before visiting
Thermal Springs of the Baths are a center of spa tourism as they are used by their visitors mainly for therapeutic purposes. The forms of hydrotherapy that are applied to them are: balneotherapy and drinking therapy. There are three hydrotherapy facilities with two chauffeurs, eight pool pools, of which 6 are new and individual baths.