Metsovo
---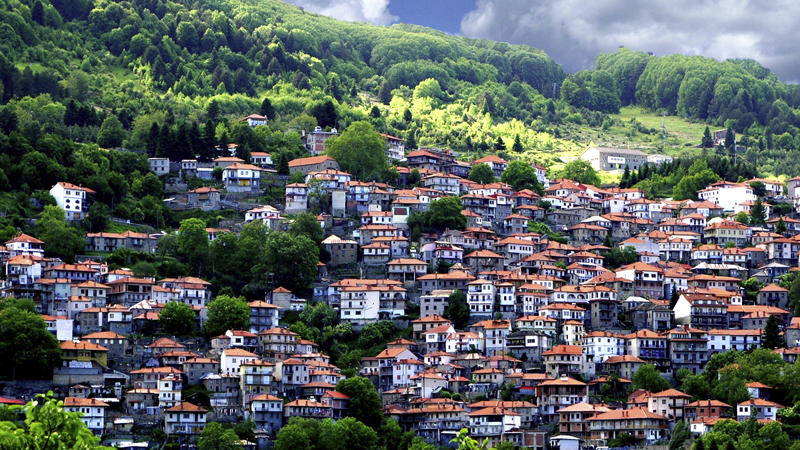 Metsovo is a mountainous town of the prefecture of Ioannina at an altitude of 1.150m. Traditional settlement is located at the eastern edge of the prefecture, near the borders with the Prefecture of Trikala, on the northern slopes, between the mountains of the largest mountain range of Greece, Pindos. Its inhabitants, according to the 2001 census amount to 3.195 inhabitants, are mainly of Vlach origin, they are less concerned with agriculture and more with livestock farming. In Metsovo are listed monuments of the Virgin Mary's Monastery, near the Metsovitiko River, the Monastery of Agios Nikolaos south of the town and the Zoodochos springs monastery at the place of Kiatra Rosia (meaning Vlach red rock / lithari). The Folk Museum of the Tositse Foundation (Tositsa) has been operating in the town since 1955, which includes traditional wood carvings, woven and embroidery, golden-colored costumes, decorative and utilitarian items, weapons, coins, agricultural utensils and pictures from 1650-1850. In winter there are organized ski resorts (Karakoli and Politsies), which together with the picturesque scenery attract many visitors. Since 1988 the E. Averof Gallery has been operating, where 250 paintings of 19th and 20th century painters are exhibited. According to one view, the word Metsovo comes from the Slavic "meskka" (bear) and "ovo" (village).
Best time to visit
In the winter there are magical landscapes in the snow and summer there is quite cool!
Weather
During the winter there are extreme weather phenomena with high snowfall. For this reason, as well as to make access more accessible to northern Greece, Metsovo was connected to Egnatia Street, a connection completed in 2009. This will contribute significantly to the tourist development of the city and to the transport of the products it produces .
Transportation
The blue-white urban buses start from the center for commuting in the city, but also to the neighboring villages of Ioannina.Phone: 26510 22239However, the distances within the city are small, so the car is not necessary. If you wish to move by taxi, it is cypress color and at your disposal 24 hours a day. For immediate service, you can call:- Radio taxi: 26510 46777-9
Know before visiting
Metsovo is still known for the production of two cheeses called Metzovones (PDO) and metsopelas. A significant part of the population is employed in the wood and milk industries (yoghurt, butter, graviera and kelograbrier) as well as crafts barrels, hives and folk art (woven, silver, wood carvings etc.). It is also famous for making wine with a well-known manufacturer of the vineyard of the Averof family.