Agios Athanasios
---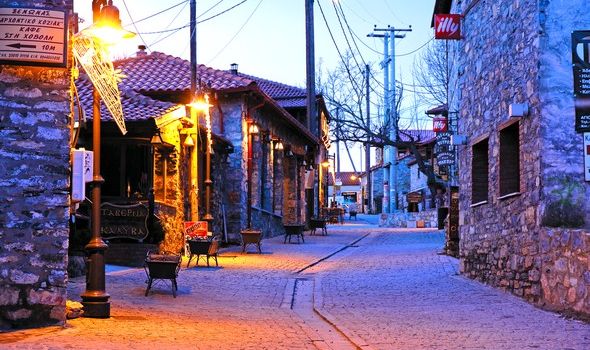 Agios Athanasios is a mountainous village in the prefecture of Pella, very close to the Greek-Macedonian border. It is built at an altitude of 1,200 meters on the slopes of Mount Kaimaktsalan. It has been classified as a traditional settlement in 1992 [1].
Agios Athanasios belongs to the municipality of Edessa and according to the 2001 census it has 184 inhabitants. Agios Athanasios is rapidly developing because of its proximity to the Kaimaktsalan ski resort. It has many modern taverns and cafes as well as modern hostels. Until 1928 he was called Ceganis Tseganis [2] [3]. It is 30 km from Edessa and 120 km from Thessaloniki.
The village was built in the late 16th century by farmers and builders from Epirus and was under the control of Ali Pasha of Ioannina, who had given some privileges to the inhabitants for the self-management of the estates. In 1803, a committee went to Giannena and delivered a letter in Greek asking for the favorable settlement of part of their debts.

In the area, ruins were found from residences and fortifications from the Roman and Byzantine years, which is justified due to the proximity of the settlement to Egnatia Odos.

In 1870, a Greek school operated in the village. During the Macedonian Struggle, the wider area was a theater of conflict between Greek and Bulgarian forces, while World War I found Serbs and Bulgarians to claim the peak of Prophet Elijah.
In the Occupation, resistance groups were gathering in the village, while during the Civil War the Greek-National Army was evacuated to expel the Democratic Army.

After the war, the population of the village decreased due to immigration to foreign countries. Only in the 1970s the village was connected with Edessa via an asphalt road.

In the 1980s, the village of Neos Agios Athanasios was founded in the lowlands, as the old village was considered geologically unsafe after earthquakes. The old settlement was completely abandoned until the mid-1990s, when hostels were created and tourist activity developed due to the Kaimaktsalan ski resort.

Snow. Center of Voras (Kaimaktsalan): (+30) 23810 32000
KTEL (Kaimaktsalan): (+30) 23810 23511
Best time to visit
The most beautiful time is the winter with enchanting landscapes without this meaning that it does not have tourism in the summer.
Weather
Temperatures are quite low with several snowfalls in the winter, which make the landscape even more beautiful.
Know before visiting
The enchanting location at the foot of Kaimaktsalan, just above Lake Vegoritida and among wooded areas of unparalleled natural beauty, makes Old Athos Athanasios a first-class ski resort in the ski resort as well as other activities such as hiking, horseback riding, mountaineering, climbing and natural rowing at Lake Vegoritida.